"Blame it on a homeless guy!  Problem solved."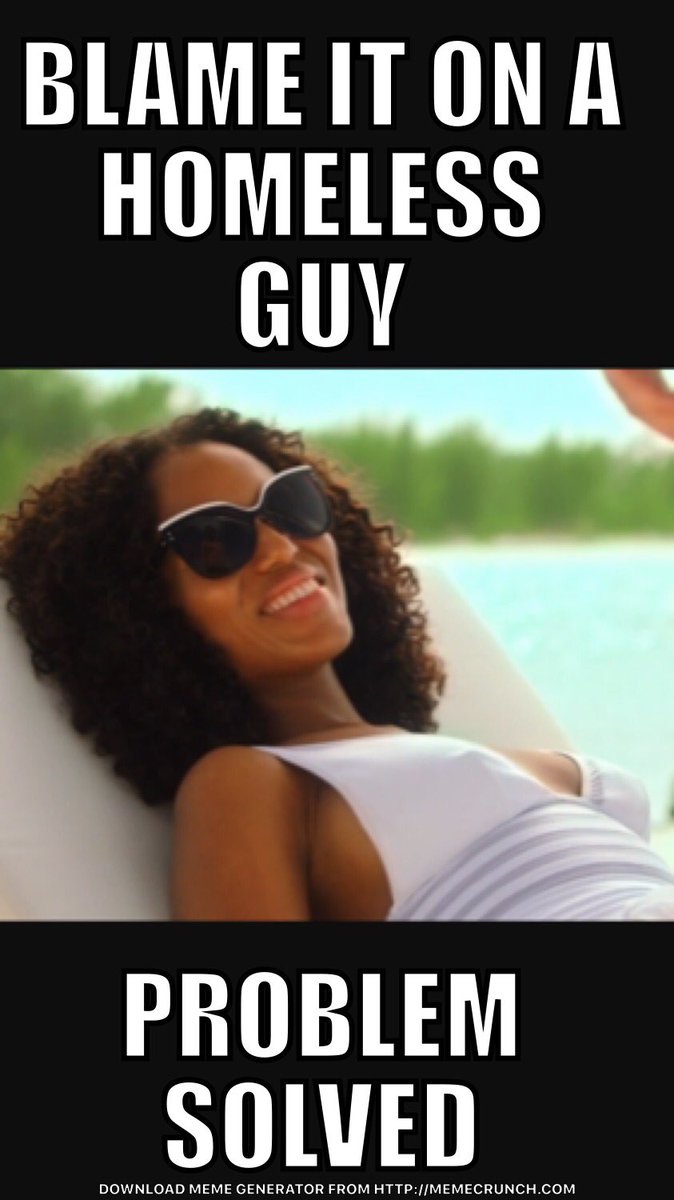 Ima say this and ima end mine but game recognize game.
See the link:
http://atlantablackstar.com/2017/04/03/investigators-say-homeless-atlanta-man-caused-massive-85-fire-critics-calling-bs/
Last week's national headline grabbing fire in Atlanta, that caused a section of the I-85 freeway to collapse, is now blamed on a homeless crack addict.  Not only did the fire make national news, it strikes one of the major commuter arteries inhibiting daily traffic for millions of drivers for the foreseeable future AND will cost millions of dollars to repair.  Basically, there is no end in sight to the headache of it all, and the homeless are taking the blame.
I have no ambition to defend the actions of this careless individual.  I like to think that I would never be homeless and/or addicted to crack.  I like to think that no matter how desperate I might be to get warm, I would take care not to ignite flammable materials in storage.  And I am reasonably sure that my choices and actions would prevent such an outcome even if I were to find myself in that man's situation.  Thus, I will not waste my time trying to exonerate him.
BUT…
I will suggest that the authorities SHARE some responsibility, which is not readily discernable to the average Joe.  After all, people are sheep – at least this is a very biblical notion.  And sheep need a shepherd.  Shepherds guard against dangerous predators on the one hand, but also against straying into trouble on the other.  Not to mention… If I actually found myself homeless, it would be a deep psychological blow to me – one which would effect my decisions and tempt me with drug abuse.  NO ONE is immune to that.
And the fact is that no matter what else, as long as homeless people remain homeless, then desperate people making stupid and desperate decisions will loom around in the shadows and under bridges.  No matter how you slice it, this is a persistent fact of life – barring genocide or some truly ugly options of that scale.
And that means, another fact – one nobody WANTS to see.  Homeless people cost us a lot more than we ever will be able to calculate. 
Thank God no one was killed in that fire!  But Atlanta's traffic for the remainder of 2017 and beyond is going to be a daily reminder of this cost.  The millions of dollars it cost to warm this homeless man and his crack smoking friends seems just a tad too high to me.  The ounce of prevention surely would be worth the pound of cure!
But these fires rarely make national headlines.  We have similar fire (on a much smaller scale) in the Lubbock news this week.  It's not likely you heard of it.
See the link here:
http://www.everythinglubbock.com/news/local-news/lfr-responds-to-warehouse-fire-in-north-central-lubbock-tuesday-morning/686897159
And when you consider all the storage sheds in back yards and back lots, all the condemned apartment buildings, and rental storage units in which desperate people take shelter all over town (and all over the nation), it is a wonder there aren't far more fires with far more devastating results.
Since everything I say here is true, and practically unarguably so, it follows that shepherds (both church and civic) should be addressing homelessness (and addiction) as a matter of fire prevention.  Even ignoring spiritual dimensions, just as a matter of cost/benefit analysis, waking up to the issues is too important to ignore another day, and blaming these things on the poor is not going to settle accounts on any books either here or in the hereafter.  The cost of shunning the homeless must be factored in, and that puts all of us on the hook with that homeless man in Atlanta.